Anvil Centre
HCMA Architecture + Design and Musson Cattell Mackey Partnership
Limen Group
I-XL Masonry Supplies and Endicott Brick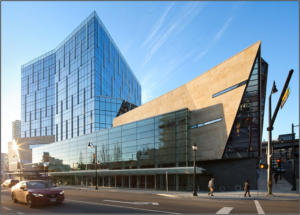 This combination of an arts centre and commercial complex in New Westminster uses natural dimensional stone and clay brick to create a dramatic visual impact.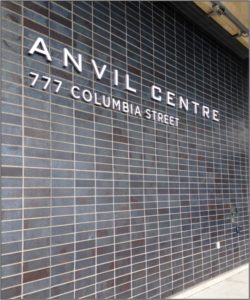 Dark, 4"x12" module clay brick have been laid in a stack pattern.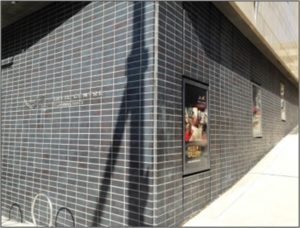 Clay brick has been used to provide a human scale at the pedestrian street level.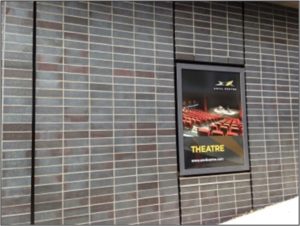 Vertical recesses in expanded head joints divide the street level cladding into panel elements.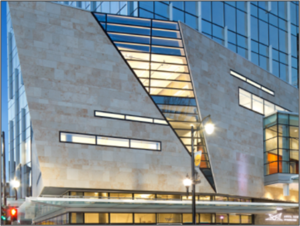 The natural stone wraps the upper portion of the arts centre in a series of angular planes.
Bradley House
Rositch Hemphill Architects
DML Masonry
Brock White and Mutual Materials
Clay brick has been highlighted with precast accents for this 4-storey residential project in Coquitlam.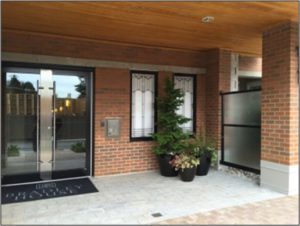 Clay brick in a medium brown, moderate colour range provide a welcoming atmosphere at the project entrance.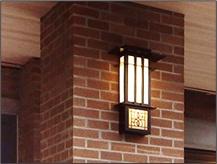 This column is an excellent example of dimensioning brickwork to an even brick module. In this case to the 4" increment of half of a full brick. This results in a consistent bond appearance and no cutting of units.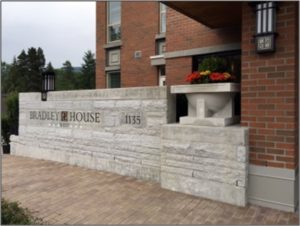 Natural stone masonry provides a strong visual impact at this feature wall.
CNC Technical Trade Centres in Quesnel & Prince George
Office of McFarlane biggar architects + Designers
College of New Caledonia
Equilibrium Consulting
Maltesen & Zettl Masonry
Basalite Concrete Products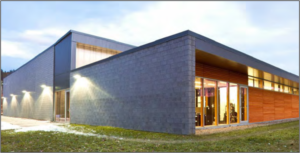 Ground Face concrete block units were used for both the interior structural walls and the exterior cladding. This masonry system was chosen for its performance, cost and scheduling advantages over other materials.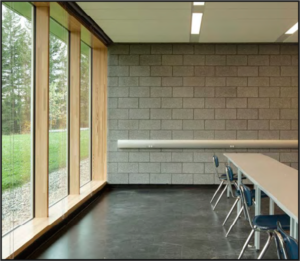 Concrete block structural walls provide partitions with superior sound and fire separation. A Ground Face finish was provided for both sides of the block walls between classrooms.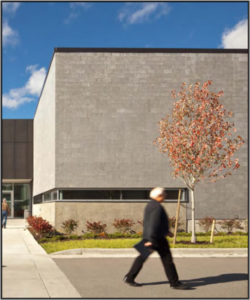 A Ground Face finish was used for both the exterior of the concrete block cladding units and the interior of the block structural back-up walls. This combination provides a highly insulated, rainscreen cavity wall system, with no need for additional interior finishes.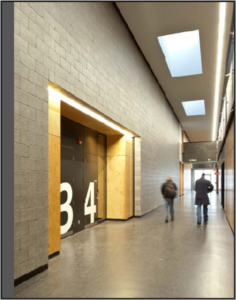 Concrete block structural walls provide corridor and demising walls with superior sound and fire separation properties. A Ground Face finish was provided on both sides of the block units for the walls between trade shops, and between the shops and corridors. This provides tough, damage resistant walls to resist impact loads.
Hillcrest Centre
HCMA
Vancouver Board of Parks & Recreation
Read Jones Christoffersen
Gracom Masonry
Mutual Materials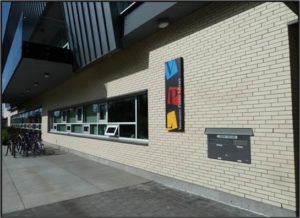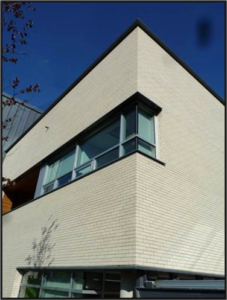 These panels of white brick provide a clean, strong architectural statement to suit the aesthetic style of the building.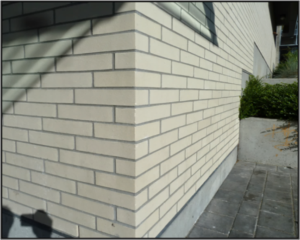 For this project, 12" long brick have been laid in their natural one third bond pattern. The MIBC Technical Manual contains bond pattern layout information – in this case ½ bond is another option.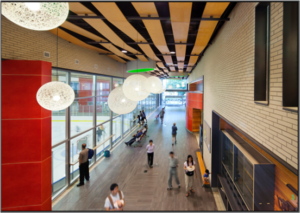 The brickwork has been carried from the exterior into the interior concourse space to link them together to provide a sense of continuity.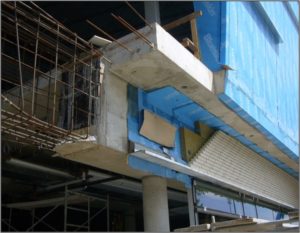 Brick cladding installation underway, showing the supporting lintel angle and the elements of the masonry rainscreen system:
Backup wall
Membrane
Insulation
Air space
Brick cladding
Mason
Gateway Architecture Inc.
Limen Group
I-XL Masonry Supplies and Interstate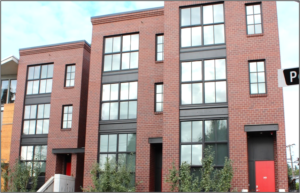 This three storey project uses clay brick in a moderate colour range to create a warm residential feel for the residents.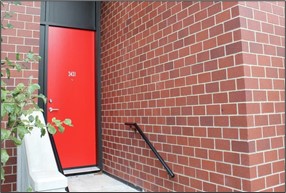 Brick cladding provides a welcoming front entry.
Clay brick in combination with concrete and steel elements.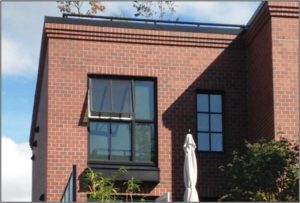 A triple corbel detail has been used to define the top of the walls at the parapet. A soldier course has been used to accent the window lintels.
Newton Athletic Park
PUBLIC Architecture + Communication
Wolf Masonry
Basalite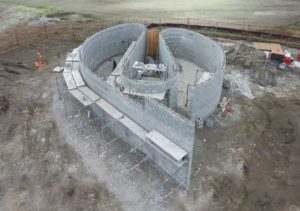 This unique design demonstrates the flexibility in form of structural concrete block. The units have been angled to achieve a radius down to 3 m.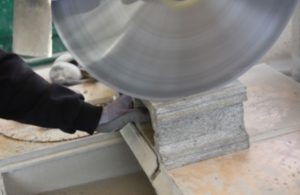 For the tightest radius locations, the blocks were trimmed on the inside corner.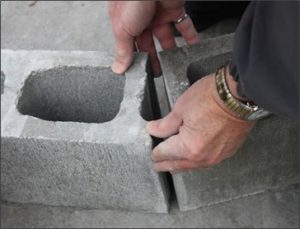 The project design was developed with the assistance of the Masonry Institute of BC. This mock-up identified how units could be trimmed to meet the tight radius requirements.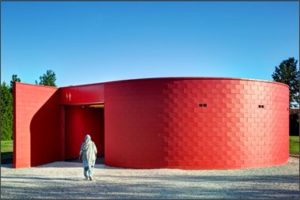 The curved block walls provide a dramatic visual impact for this park washroom building. The blockwork also provides a tough, damage resistant exterior and interior surface.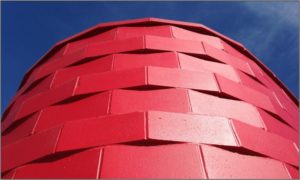 This close-up shows the unit overlap that was required to achieve this tight radius. This "basket weave" effect is normally minimized – but has been used as a highlight detail for this project.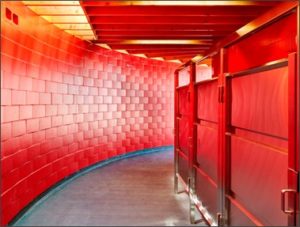 The single wythe structural walls were also exposed on the interior of the building. The walls provide structure, exterior finish and interior finish. No insulation was required for this open-air application.
Oak
Merrick Architecture + Borowski Sakumoto Fligg McIntyre Ltd.
BC Masonry
I-XL Masonry Suppliers, Endicott and Interstate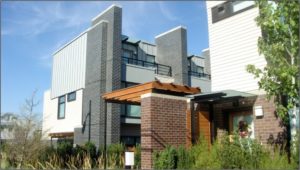 Burgundy and Charcoal brick were employed in alternate colours on the four segments of this townhouse project.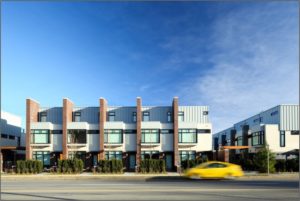 Brick clad piers between the townhouse units reference traditional chimney forms.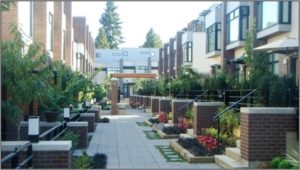 Interior courtyards feature brick landscaping elements.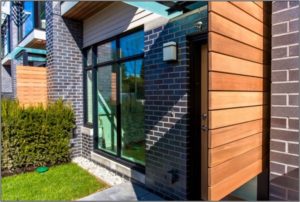 The quality appearance of brick masonry combines with other materials to provide a contemporary and stylish entrance.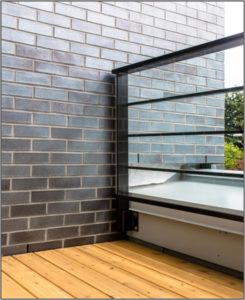 Balcony detail featuring Charcoal coloured brick in ½ running bond.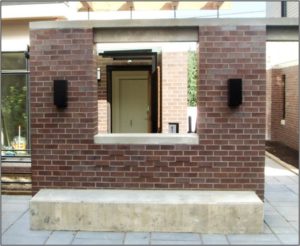 Brick and precast elements highlight this courtyard feature.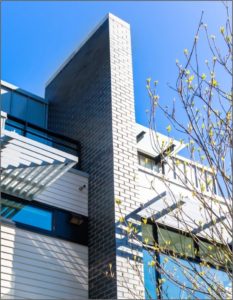 Brick piers provide a dramatic physical and visual separation between the townhouse units.
Richmond Firehall No.2 – Steveston
Hughes Condon Marler Architects
I-XL Masonry Supplies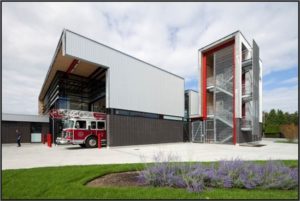 This Fire Hall has a concrete block structure with brick veneer cladding for a base of the exterior facade.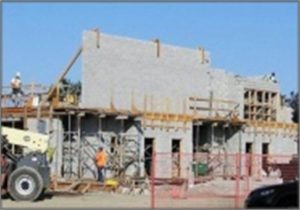 Concrete block structure under construction. High seismic capacity is provided by reinforced block walls utilizing high-strength units.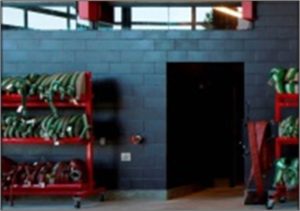 Structural concrete block walls were left exposed in the apparatus bay and in some interior areas and to take advantage of their surface toughness and durability.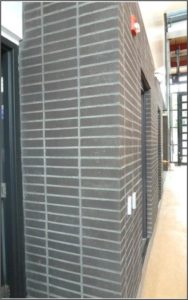 Clay brick veneer in a 12" length was used as a cladding in both exterior and interior locations.
Ronald McDonald House BC & Yukon
Michael Green Architecture Inc.
Dominion Masonry
I-XL Masonry Supplies and Endicott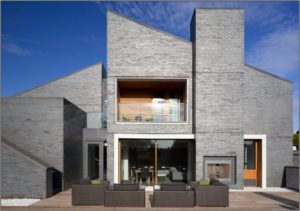 Dark ironspot brick provides a dramatic finish for this "home away from home" for families of children receiving medical treatment at Childrens Hospital in Vancouver.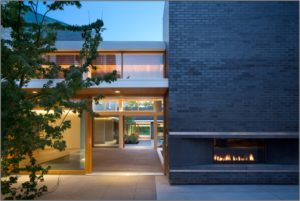 This fireplace provides a sense of home in this brick clad exterior living space.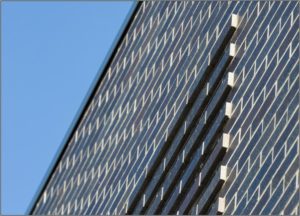 Brick detail featuring alternating bands of projecting brick units.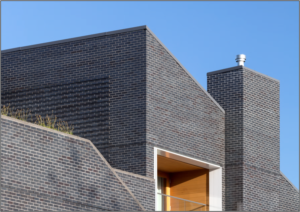 Sloping parapet forms and projecting bands provide dramatic brick detailing.
Shoreline Wood
Shift Architecture
Bedrock Masonry
I-XL Masonry Supplies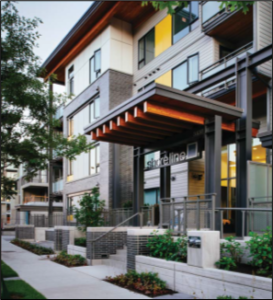 Brick is used consistently throughout this 4-storey residential project to provide a sense of permanence and quality.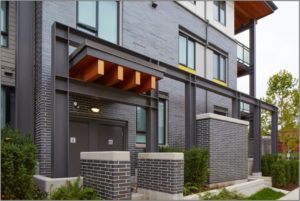 The brick piers and landscaping elements serve to ground the building and define the private entries.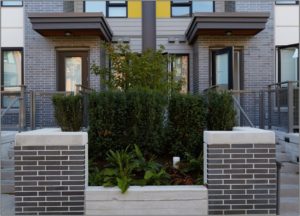 These 12" long ironspot brick are laid in 1/3 bond to provide a horizontal aspect.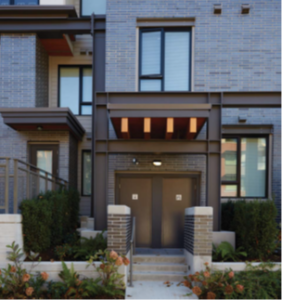 The cast of the ironspot brick varies with light exposure from black to blue as shown here.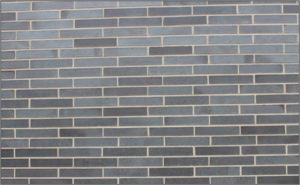 12" length units laid in 1/3 bond provide a subtle horizontal emphasis, while reducing installation cost when designed to the module to avoid cutting.
Skyway Tower
W.T. Leung Architects Inc.
Randal Masonry
Brock White and Mutual Materials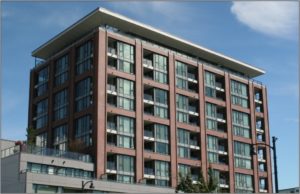 This high-rise residential project utilizes clay brick as the primary cladding material.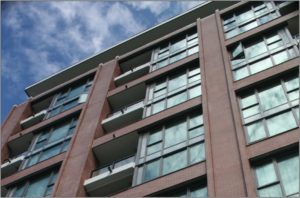 A protruding brick fin detail at each side of the piers provides a vertical emphasis to these elements.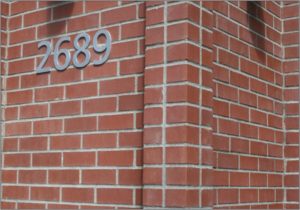 8" length brick units are laid in typical ½ bond with a corner column detail.
St. Augustine School
Acton Ostry Architects
Alegra Masonry
I-XL Masonry Supplies: Hebron Brick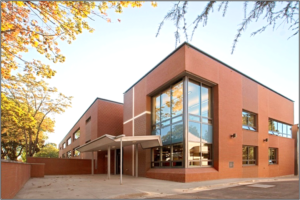 An extensive variety of brick patterns and detailing are utilized to provide a dramatic panelized theme for this private school and daycare.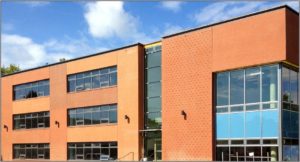 The Masonry Institute of BC provided design input in the form of brick detail examples for this three-storey building that features a collage of three shades of brick laid in six different patterns.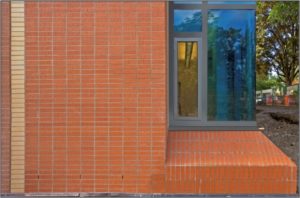 This corner window detail features a sloping brick sill.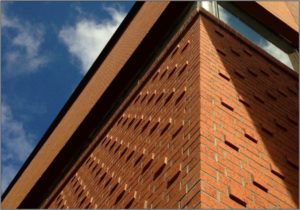 This bold detail employs a Flemish bond pattern with a staggered, corbelled header variation.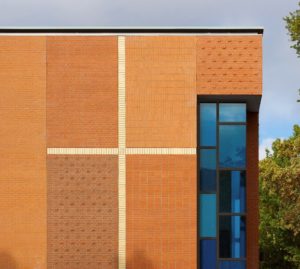 This view illustrates several of the project's brick colours and bond patterns. Bond pattens shown here include: English, Flemish, running, stack and soldier.
Surrey Firehall No.14
Chernoff Thompson Architects
Empire Masonry
I-XL Masonry Supplies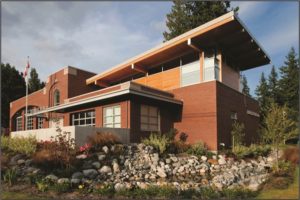 Classic red brick veneer with a concrete block structure acting as the back-up.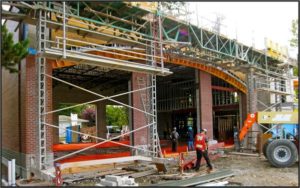 Brick veneer arch under construction. It is supported by a curved steel lintel.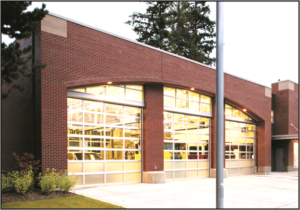 Brick veneer arch completed. Detailing includes a Soldier course at the arch lintel, grey brick accents at the top corners and grey, split-face concrete block veneer at the base of the piers.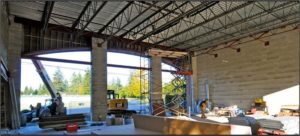 Structural concrete block walls and piers support the roof structure in the apparatus bay. They also provide a tough, durable finish in this industrial setting.
UBC Allard Hall – Faculty of Law
Diamond & Schmitt; CEI Architecture
UBC Properties Trust
Dominion Masonry
Mutual Materials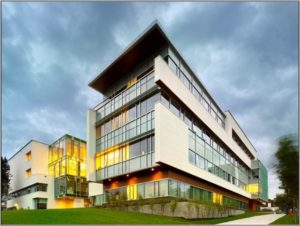 These dramatic masonry panels of white clay brick and mortar illustrate the architectural diversity possible with masonry claddings.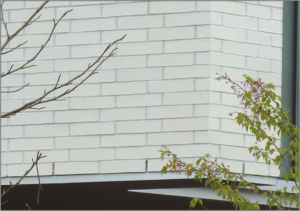 12" long brick units were installed in a 1/3 bond pattern.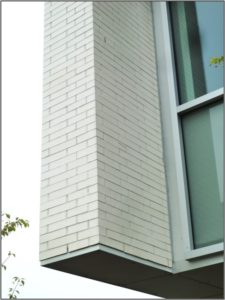 This suspended brick corner detail is supported on a steel frame.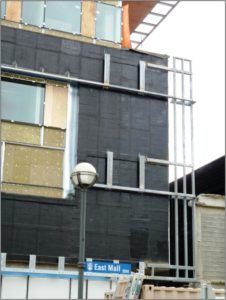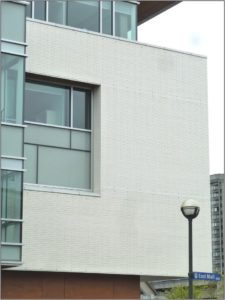 These before and after photos illustrate the back-up and lintel support system for the brick veneer. The steel angle lintel over the window has been extended horizontally through the body of the wall to provide a control joint to accommodate possible thermal movements.
Woodward's Building
Henriquez Partners Architects
Westbank Projects
Dominion Masonry
I-XL Masonry Supplies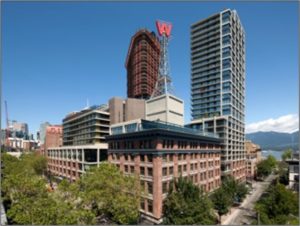 This one-million square foot multi-use project features both restored and new brick masonry. The use of brick as the primary cladding material makes a connection to the heritage character of the surrounding area.
This new brick construction at street level utilizes custom dogleg units to form 45 degree corners.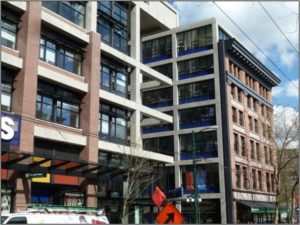 This elevation features both historic and new brick construction. In fact, the same manufacturer supplied brick to both the original and new projects.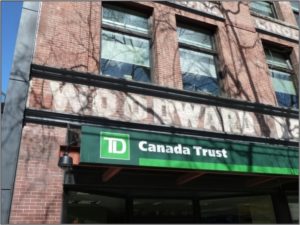 Portions of the historic facades dating from 1903-1908 were restored. Preservation of the original exterior illustrates the sustainable qualities of masonry.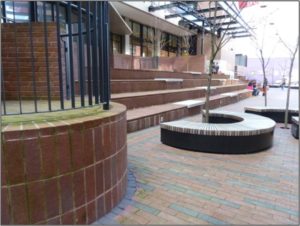 The brick design theme is extended into paving and landscaping applications.